The Best Digital Pianos under $1000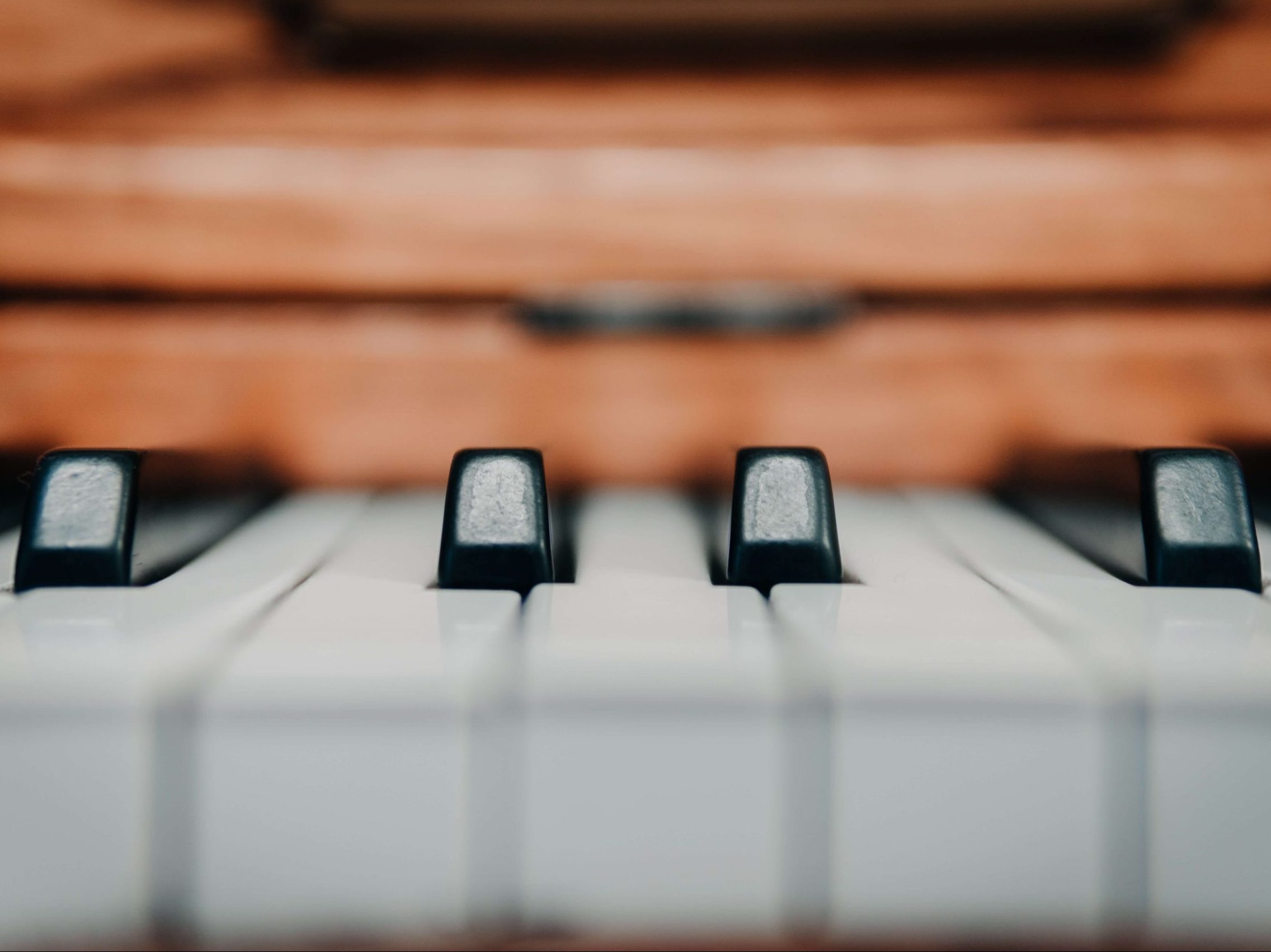 THE BEST DIGITAL PIANOS UNDER $1000
A console digital piano is the perfect option if you are looking for the closest thing to an acoustic piano at home, but on a budget. They bring a more realistic feeling than any other simple portable keyboard, while looking classy and smart in your living room.
Yamaha and Casio are the best brands when it comes to quality-price ratio. However, we have explored other options as well so you can choose other alternatives.
Here is our selection of the best console pianos under $1000.
Model
Best price
Lagrima LG-8830
Our choice
Yamaha Arius YD-P103
Alternative
Casio Privia PX-860
Preview



Best price
Preview

Our choice
Preview

Alternative
Preview

Yamaha Arius YD-P103
Yamaha's quality is unquestionable. That is why if you are looking for a decent console piano under $1000, this company will be one of the best choices.
The Arius collection of Yamaha is built to reproduce the sound and feeling of acoustic pianos. The advantage is that you can now link your smartphone or tablet to your digital piano and use apps to choose different voices and settings.
Available in classic black and ellegant dark rosewood and with synthetic ebony and ivory keytops for a perfect and natural feeling when played.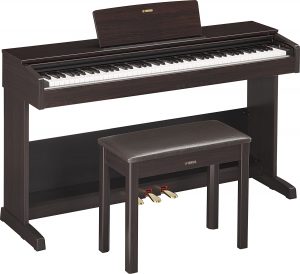 Yamaha's Virtual Resonance Modeling (VRM) emulates the resonance of an acoustic piano
3 pedals: soft (una corda), sostenuto and sustaining (damper)
Features a dual mode: you can add two headphones and practice duets with somebody else
Check Offer
The Best Digital Pianos under $1000
Yamaha Arius YD-P103
back to menu ↑
Casio Privia PX-780
One of the most popular brands when it comes to pianos is Casio, specially if we are talking about quality-price ratio.
The Privia series is a collection of pianos that combine a very good sound quality with the best digital features. The PX-780 model has been improved with three times more memory than previous versions, and can be connected using an USB to both Mac or Windows computers, or even the Apple iPad.
In addition, the keys have also been redesigned to emulate the weight and feel of ebony and ivory keys. You will feel like playing a grand piano, but will also be allowed to choose among up to 250 different instrument tones and 180 drum patterns.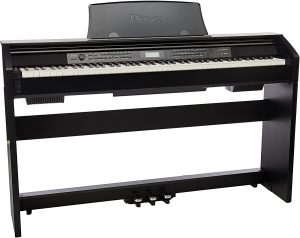 Casio's sound source Acoustic and intelligent Resonator (AiR) provides a realistic sound
88-note keyboard with a Tri-sensor scale and SP-33 pedals
3 year manufacturer extended warranty
Check Offer
The Best Digital Pianos under $1000
Casio Privia PX-780
back to menu ↑
Artesia DP-2
Artesia Pro is a U.S based company with years of experience producing electronic musical instruments. The DP-2 model is an example of Artesia's modern design, combining the advantages of a console digital piano with the sound of an acoustic one, all at a very affordable price.
This can be appreciated in the possibility of choosing among the sound of different instruments, such as a grand piano, a harp, an organ, or a bass, besides in the USB and MIDI port included for a perfect connection to your laptop, tablet or even smartphone.
The cabinet included also helps giving the look of a traditional piano, thanks to its classy dark rosewood matte finish.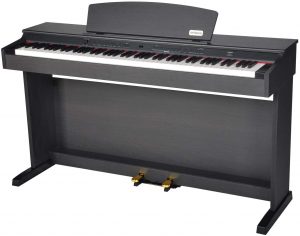 1 year limited warranty for every component included
Features weighted hammer action in its keys to bring the feel of an acoustic piano
With five different speed touch settings adaptable to every piano player
Check Offer
The Best Digital Pianos under $1000
Artesia DP-2
back to menu ↑
Lagrima LG-8830
Lagrima is aimed to produced practical and quality instruments, providing also an excellent after-sale service. And the LG-8830 is a very affordable option, specially for those beginning to play the piano.
Available in black or white, this model is perfect for young players: speed can be modified according to the practice and level of the performance. Besides, it has a recording function that can be activated with just one touch, making learning even easier as players can see their progress.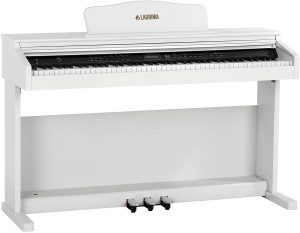 3 pedals with protection that prevents them from damaging in long-term use
Includes a LCD display screen and built-in stereo speakers
With a MIDI interface to connect it to other smart devices
Check Offer
The Best Digital Pianos under $1000
Lagrima LG-8830
back to menu ↑
Casio Privia PX-860
As we mentioned before, Casio is one of the best companies when it comes to quality digital pianos. That is why there is more than one model in our list, as they offer different excellent options under $1000.
This PX-860 model produces an excellent sound, similar than that of a 9-foot concert grand piano, but captured in stereo at four dynamic levels. But what probably impressed us the most was the "Hall Simulator" feature, that can emulate the acoustics of real locations so you can feel like you are playing a grand piano in many different places.
Besides, you can choose among 18 instruments tones and a poliphony of 256 notes (in comparison to the 128 of the PX-780 model). Besides, there are 3 sensitivity levels according the speed and accuracy of each performance.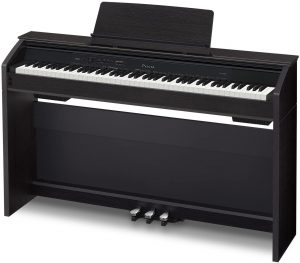 3 year manufacturer extended warranty
Features a 20W + 20W amplifier
Includes 10 high-quality recordings of live philharmonic orchestra performances
Check Offer
The Best Digital Pianos under $1000
Casio Privia PX-860
back to menu ↑
Casio Privia PX-770
For those looking for a nice Casio piano at the most affordable price, the PX-770 brings a perfect solution.
Though we won't find all the features of the more expensive PX-780 and PX-860 models, the 770 has a 4-layer sound in a pretty decent keyboard, with keys that simulate ebony and ivory texture. It also features an adjustable touch sensitivity and hammer response suitable for any playing style, from a beginner level to a more intermediate-advanced one.
The two-track MIDI recorder will help you improve your playing and see your progress by recording your performances.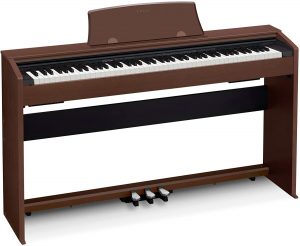 Available in brown, black, and white
A furniture-style bench, headphones, and instructional book and DVD are included
With 60 recordings and room for another 10 songs of your choice
Check Offer
The Best Digital Pianos under $1000
Casio Privia PX-770
back to menu ↑
Korg B2SP
Founded in 1963, Korg's company is aimed to produce innovative, high-quality musical instruments. The B2SP is an accessible under $1000 option, and an example of Korg's quality.
Perfect for learners and more seasoned players, it features a 88-note keyboard that has the touch of an acoustic piano and a three-pedal unit assembled. It allows you to record your sessions as music data on a smart device and then listen to your recordings through its 15-watt speaker included.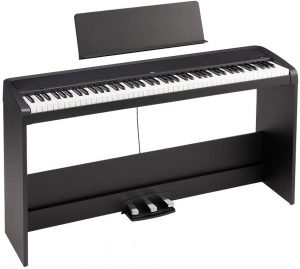 Includes 12 different sounds and a polyphony of 120 notes
Natural hammer action and grand piano voice
Motional Feedback Technology for a perfect experience
Check Offer
The Best Digital Pianos under $1000
Korg B2SP
Our choice: Yamaha Arius YD-P103
Yamaha brings you the iconic Yamaha CFX sound to your home and the touch and feeling of an acoustic piano. The best of Yamaha's quality under $1000.
PROS
Its keys' ebony and ivory natural feel
The quality-price ratio
The gorgeous overall structure
CONS
Some complaints regarding some keys not working properly