Best Musical Instruments for Kids & Toddlers
We all know about the many physical and psichological advantages of start playing musical instruments at a very young age. By learning music, kids can improve their social and cognitive skills, increase their self-confidence, coordination, sense of rhythm…
But the question is, what instrument should we give our kids to introduce them to music? There are so many options that we may find this choice quite challenging. And, of course, we just want the best for our children.
Well, we cannot decide for you, but we can help providing you with a list of the most suitable musical instruments for toddlers and kids. All of them have been made taking into account children's needs, using non-toxic materials and making them sturdy so they can last for years.
Take a look to this selection of the best options for young musicians.
1.A tiny wooden piano
Let your small Mozart show their talent with a piano of their size. This one is made of painted wood, with 25 keys and two full octaves to play short melodies. To make learning easier, it also comes with an illustrated songbook: kids will gain confidence when they realize they can reproduce their favorite songs just by following the color code.
The company, Melissa & Doug, produce toys and musical instruments like this one for kids, from 0 to +8 years old. They are partners with the American Academy of Pediatrics, and their aim is to help fostering the early brain development.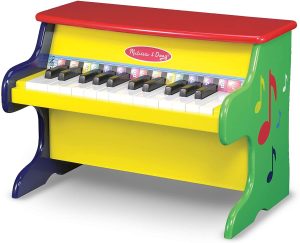 2.A bright accordion
We have an option here for kids from 7 years old and up: a sturdy but lightweight accordion, made of wood with a bright and durable plastic coating to produce a real sound, like a real accordion for adults!
With instructions and a songbook included, this accordion has less keys for an easy learning. It is perfectly suitable for kids' small hands and very portable, so they can take it and play it anywhere.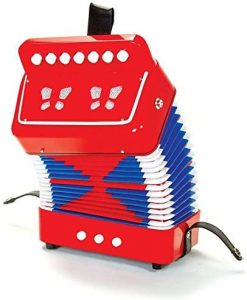 3.A lovely ukulele
The ukulele is a very popular instrument for people of all ages, but it becomes specially suitable for children because of its size and simplicity, with just four strings that can help kids familiarize with this type of instruments.
With an ukulele, your kid will learn patterns and the basic notes while having some fun! And, who knows, maybe if they want to take guitar classes in the future, this will make it easier for them to start.
This option is made of ABS and it comes with an extra harmonica, so you can join the fun and make a lovely duet.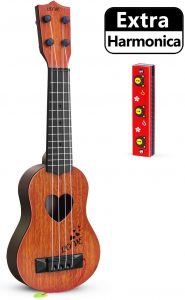 4.A colorful xylophone
Of course, we must had a colorful xylophone in our list of the best musical instruments for kids and toddlers.
Made with colored metal keys that produce a beautiful and clear tone, this sturdy xylophone will help developing your children creativity. Besides, it is perfectly safe for smaller children: all keys are screwed to the base so they cannot be easily removed, and all materials used are non-toxic.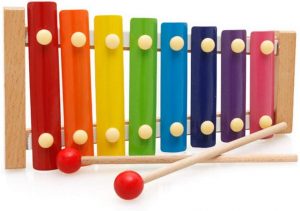 5.A silver trumpet
Trumpets are not the easiest instrument to play, so you better let your kid start practicing as soon as possible if you want them to end joining any orchestra.
We have found the perfect trumpet for the youngest learners, with 4 colored keys for an easier learning while producing a real trumpet sound. It is made of metallic silver plastic (of course, safe and non-toxic) with a shiny finish that will make it look like an adult, professional one.


6.A whole percussion pack
We have taken into account the youngest of those young learners and have found a percussion set perfect for them.
With 15 different high-quality musical instruments, toddlers can shake, tap, blow and beat, finding new ways to express themselves and develop their sensitivity to music at these young ages.
All of them are made with high-quality, non-toxic materials, perfectly suitable for toddlers and babies. Besides, a tote bag is included for a perfect storage of the whole pack.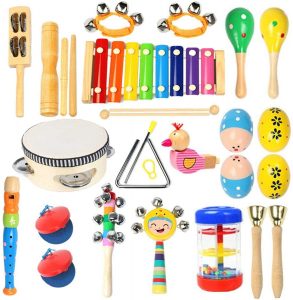 7.A vibrant drum set
A drum set is a good choice for children, specially for those with a lot of energy. It will allow them to express themselves and they will probably sleep better at night…
For kids from 3 to 12 years old, this drum set was built to last. With 5 different drums, a cymbal, and a pedal, your kid will learn to create different patterns by combining them all and develop this way their sense of rhythm.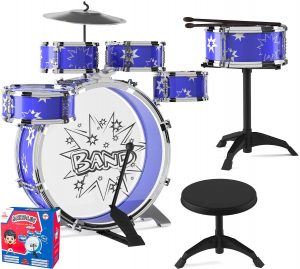 8.A sturdy recorder
The always classic recorder is our last suggestion to teach your kids about music, no matter their age.
Kingso has this collection of soprano recorders so you can choose your kid's favorite color: white, green, red, pink, yellow, blue, black, purple, orange… All of them feature a 8-hole German fingering and include a case, a fingering chart, and a cleaning rod to keep it in perfect conditions for years and years.