The Best Decent-Priced Digital Metronomes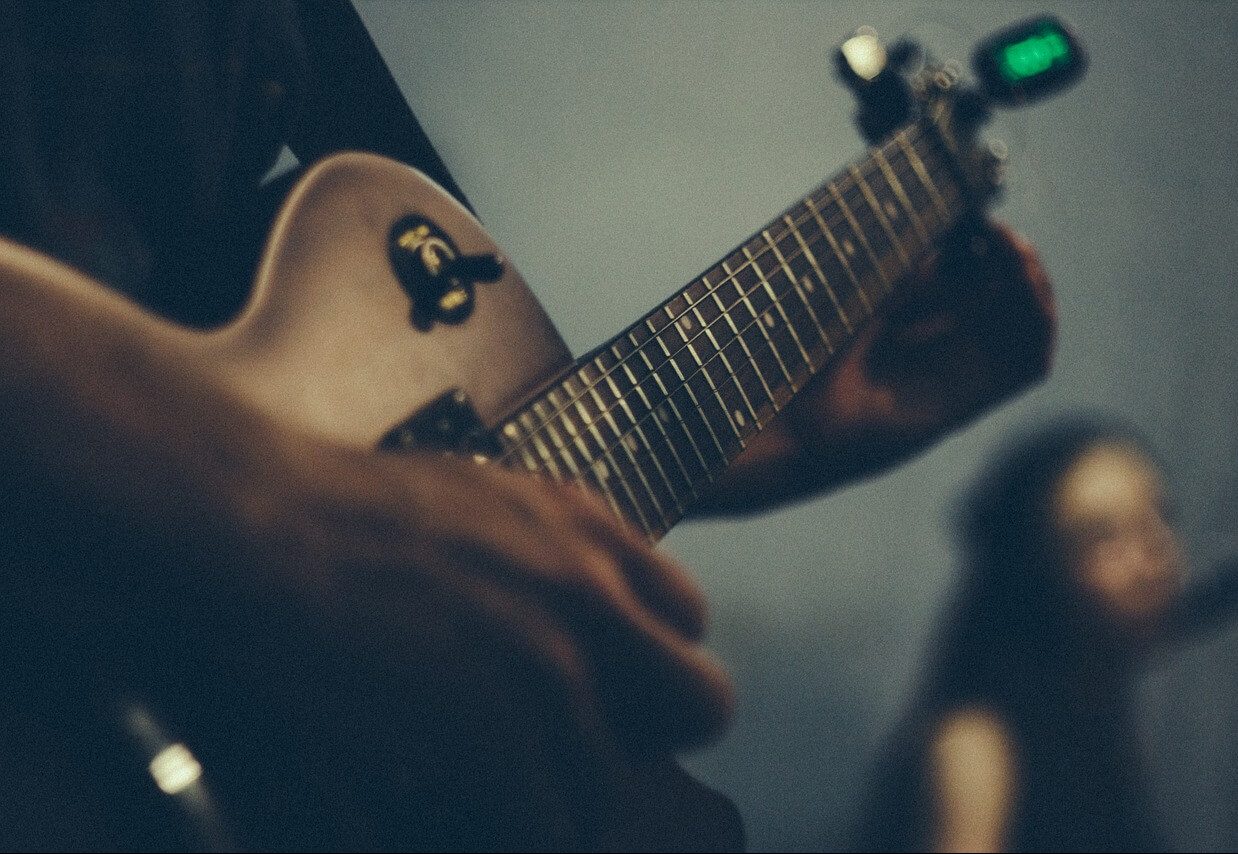 Metronomes are an essential item for any musician: they keep time and help you set the pace, so the most important thing is that they are accurate and precise.
Unlike traditional mechanical metronomes, digital metronomes are battery powered. They may not be as simple to use as pendulum metronomes, but the main advantage of these digital metronomes is that they usually offer other built-in features that mechanical ones cannot, such as a tuner, or drum patterns.
That is why we have made a list of the most affordable and precise digital metronomes, so you can choose which one suits you best.
Take your digital metronome anywhere with you and never skip the beat!
1. Long Beach Music Digital Metronome
For those who want a digital metronome that looks like a mechanical one, Long Beach Music has a proposal: a compact and portable hybrid metronome without pendulum, but with plenty of functions.
A beam and a beeping sound will set the tempo. Besides, you can choose among 7 different rhythm patterns and 6 beat options. It also comes with its own batteries, a manual and a black carrying bag.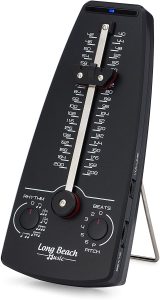 2. Korg MA-2 Compact Metronome
Despite of its compact design, the Korg MA-2 is a very functional metronome with a large readable display (a 30% larger than the previous version).
Now you can easily see a digital needle from left to right on the screen, to have a visual indication of the beat besides the audible beat, and a triangular icon that will show you both the beat position and the timing. With plenty rhythm patterns and a variety of beats, the Korg MA-2 will make any practice easier.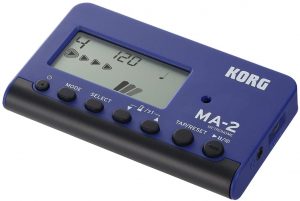 3. Korg MA2PK Pikachu Pokemon Edition
If you need a reliable compact metronome for a young musician (or simply for a Pokemon freak), Korg has a Pikachu edition of the MA-2 above.  There is also a limited Eevee edition if you prefer it!
The same precision and functions, such as a loud sound, a timer mode and up to 400 hours of non-stop use.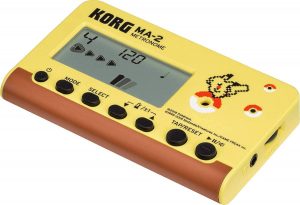 4. Tetra-Teknica EMT-800 3-in-1 Digital Metronome
A very affordable 3-in-1 digital metronome that includes a tuner and a tone generator. With a broad display for an easy reading and 3 red and green LED lights to make tuning easier.
This metronome has a tempo range of 30 to 260 beats per minute, this metronome also includes up to 9 different rhythms and 5 tuning modes available. All with a 3-year manufacturer warranty. And batteries included!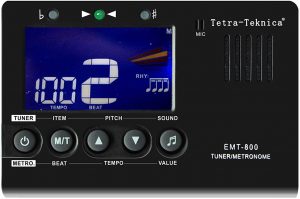 5. KLIQ MetroPitch Metronome & Tuner
Available in different colors, the MetroPitch is another metronome that also works as a tuner and a tone generator. You will have a 3-in-1 device in your pocket, thanks to its compact size.
You just need 2 AAA batteries and it will give you a range that goes from 30 beats per minute to 250, even letting you subdivide the beat. Regarding the tuner, with the MetroPitch you will be able to tune to a 432 frequency.
It comes with a 3-year manufacturer warranty and there is no doubt you will receive a perfect customer support.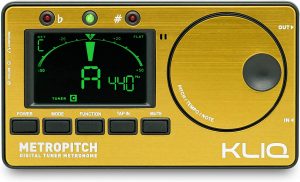 6. Lekato Mini Portable 3 in 1 Metronome
If you think that portable batteries can be very annoying, the Lekato metronome has the solution: you will get a 3-in-1 USB rechargeable device.
With its own lithium battery you will save money buying new batteries. But if this was not enough, it also has an auto power off function, so the metronome will switch off after 5 minutes of no use. It even includes a headphone jack and two different metronome sound modes: choose between a human voice or an electronic beat.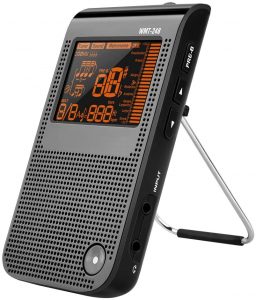 7. Soundbrenner Pulse Wearable Metronome
So if you thought that a USB rechargeable metronome would be a revolution, try a wearable one.
Soundbrenner has produced this device that will really make you feel the beat. It emits powerful vibrations while you are playing your instrument, even allowing you to connect up to 5 different devices via NFC/Bluetooth: the whole band will be synchronized!
Combine it with their Android/iOS mobile app to create and save your own rhythms and customise your device.

8. Korg TM60WH Tuner Metronome
The TM60 is another Korg metronome that features 3 different types of tempo settings and 15 rhythm variations.
It is available in white or black, with a large display in both versions for a perfect reading: it will allow you to see the tuner and metronome simultaneously. Other interesting functions included are the memory backup function and an auto power-off when not in use.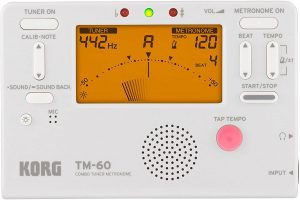 9. Neuma NMT-200 Metronome Tuner
An even lower-priced digital metronome is the Neuma NMT-200, with a tuner and a tone generator functions included.
This metronome is suitable for all types of instruments, but its tuner is specially created for guitars and other string instruments. It includes a silicone gripper, input and headphone jacks, and a 3-year guarantee.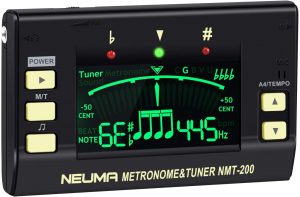 10. Kliq Digital Clip-On MicroNome
We would like to end our selection with a micronome: a mini USB rechargeable metronome that you really take anywhere with you.
This tiny device with a clip-on design features an easy-to-read LCD display and LED indicators. With 10 different beats to choose, it will even help you saving energy thanks to its automatic power off function that switches the device off after 3 minutes of no sound/button engagement.