The Best Mechanical Metronomes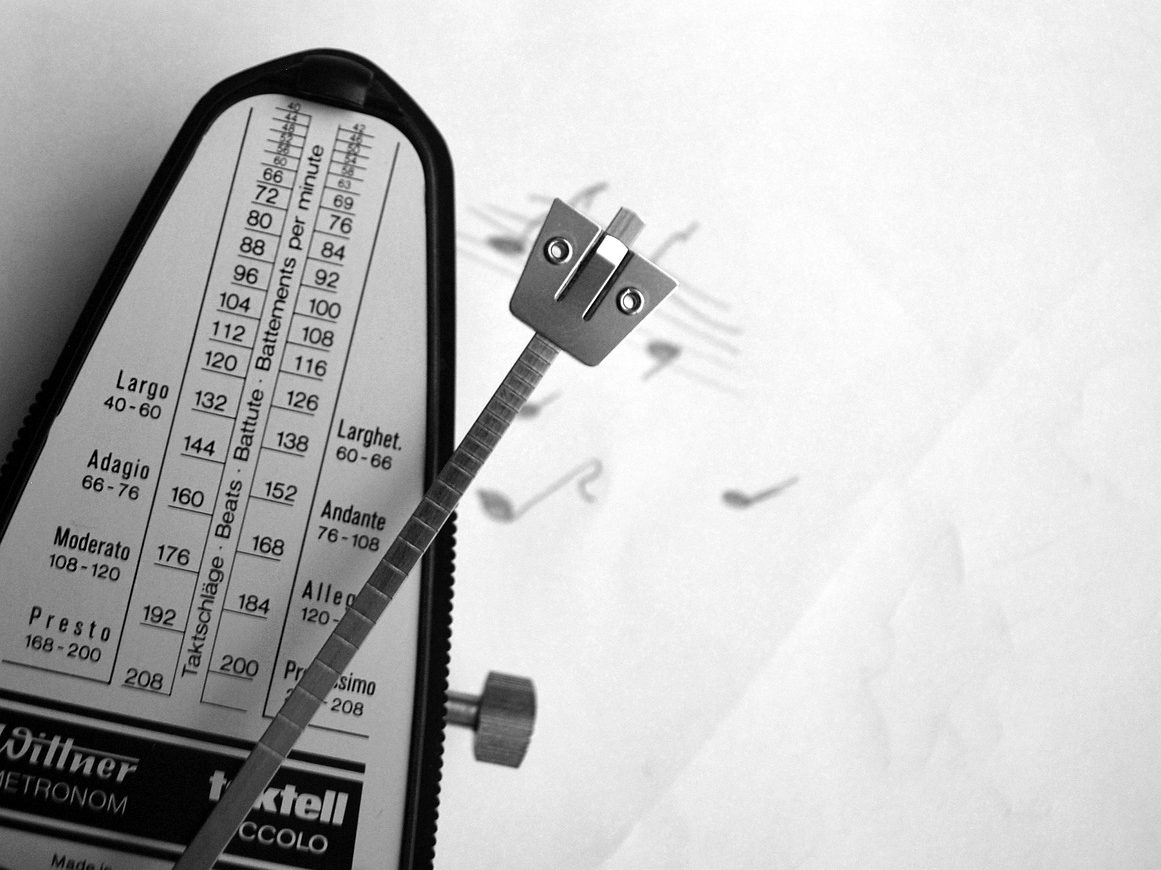 If you are thinking about the perfect gift for a music lover one, what about a gadget that will help them improve their musical skills? A mechanical metronome is a useful item that they will love, as it does not need battery and can last for a lifetime!
Traditional mechanical metronomes usually have a pyramidal shape and a swinging pendulum in the middle, but as we will see they can also have different shapes and colors, so you can choose a more classical one or a more flamboyant one that reflects that beloved one's personality.
Here is our list of the best mechanical metronomes to give you some inspiration.
1. Gleam Mechanical Metronome
A classic metronome that needs no battery is the Gleam mechanical metronome.
Available in an elegant wood color, it is surprisingly accurate and sturdy, with all moving pieces made of metal. The perfect option if you are more a visual learner who needs to follow a pendulum or need a loud beat to keep your rhythm. It will work for centuries!
2. ZhangSheng C510 Classic Mechanical Metronome
This is what we mean when we talk about metronomes with personality. ZhangSheng offers this collection of mechanical metronomes in several different colors: pink, yellow, apple green, sea blue… Because learning music does not have to be boring!
Besides the modern look, its interior is designed with a durable metal core. The brand also offers a 2-year manufacturer's warranty, which makes this a trustable option.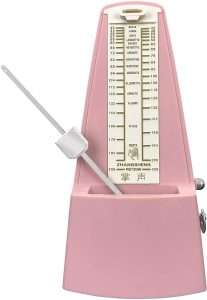 3. Wittner 903030 Taktell Super-Mini Metronome
Wittner is a quality brand when it comes to metronomes, but they can also say they have one of the world's smallest mechanical metronome, without sacrificing accuracy (with a tempo range that goes from 40 beats per minute to 208 beats).
If you need a compact metronome, smaller than your smartphone, that you can take anywhere with you, this one in a mahogany colored wooden case is the perfect choice.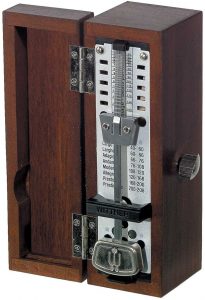 4. Sterinborgh Taktell Piccolo Metronome
Perfect for learners and beginners, the Sterinborgh Piccolo is another very light and portable metronome suitable for all instruments that you can carry with you to practice anywhere.
It looks like a vintage metronome, showing the beat speed not only in beats per minute but also according the tempos: largo, adagio, andante, presto… The perfect tool to train rhythm sense.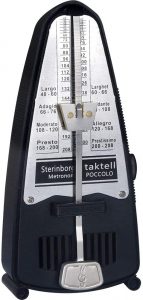 5. Donner DPM-2 Mechanical Metronome
The Donner DPM is made of ABS and cooper, and available in red, white, and black.
The difference with this metronome is that it features a plastic-steel movement to reduce the weight and friction of the internal pieces and improve accuracy. You can also choose among 5 different rhythm patterns.
The metronome comes with a cleaning cloth, a user's manual, and a black bag for storage.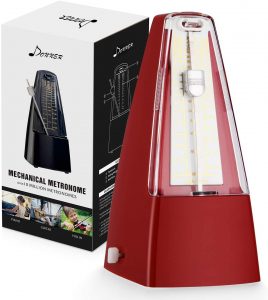 6. Tempi Grain Veneer Metronome
A little bigger than previous models in our list, the Tempi metronome would be a perfect option to keep on a shelf or next to your instrument, as it features four grippy bottom legs that keep it stable while playing.
It is available in elegant colors, such as black or white but you can choose also the mahogany or teak wood veneer finish. And though it is suitable for all ages and levels, it includes a free e-book and 2 months of free online music lessons, which makes it the perfect complement.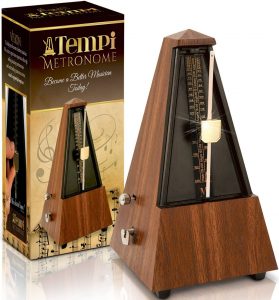 7. Bravodeal Mini Mechanical Metronome
Another extra-compact metronome is this Bravodeal model. Made of hard plastic material on its outside (available in black, red, and white) and with a copper mechanism inside, you can even carry it on a guitar case.
If you are looking for a very small, affordable option, the mini Bravodeal metronome will do its job perfectly.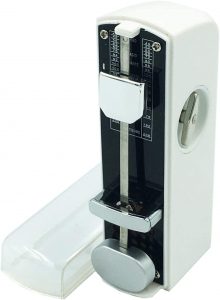 8. Cantus Wood Grained Metronome
The Cantus is a metronome not only with an elegant wood grained look, but also with a pretty decent price and excellent quality.
If you need a metronome with a loud ticking sound (for electric guitar players, for example, who need to hear the beat over the amp), this is the mechanical metronome you are looking for.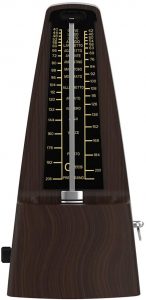 9. Wittner Taktell Cat Metronome
Do not let its look deceive you: though it is thought to motivate those young music students, this cat metronome has the accuracy and quality of any German-made Wittner metronome.
It is made of heavy childproofing plastic, resistant and durable, with a very original bow tie pendulum that can be adjustable from 40 beats per minute to 200.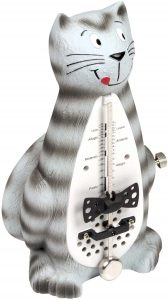 10. Wittner 834 Taktell Piccolo Metronome
The last Wittner option and the last metronome in our list is the 834 Taktell, available in a beautiful plastic ruby color case.
A compact and light vintage metronome that produces a nice beat sound, not too soft as to not hear it, not too loud as to annoy people surrounding you.