The Best Condenser Microphones for the Money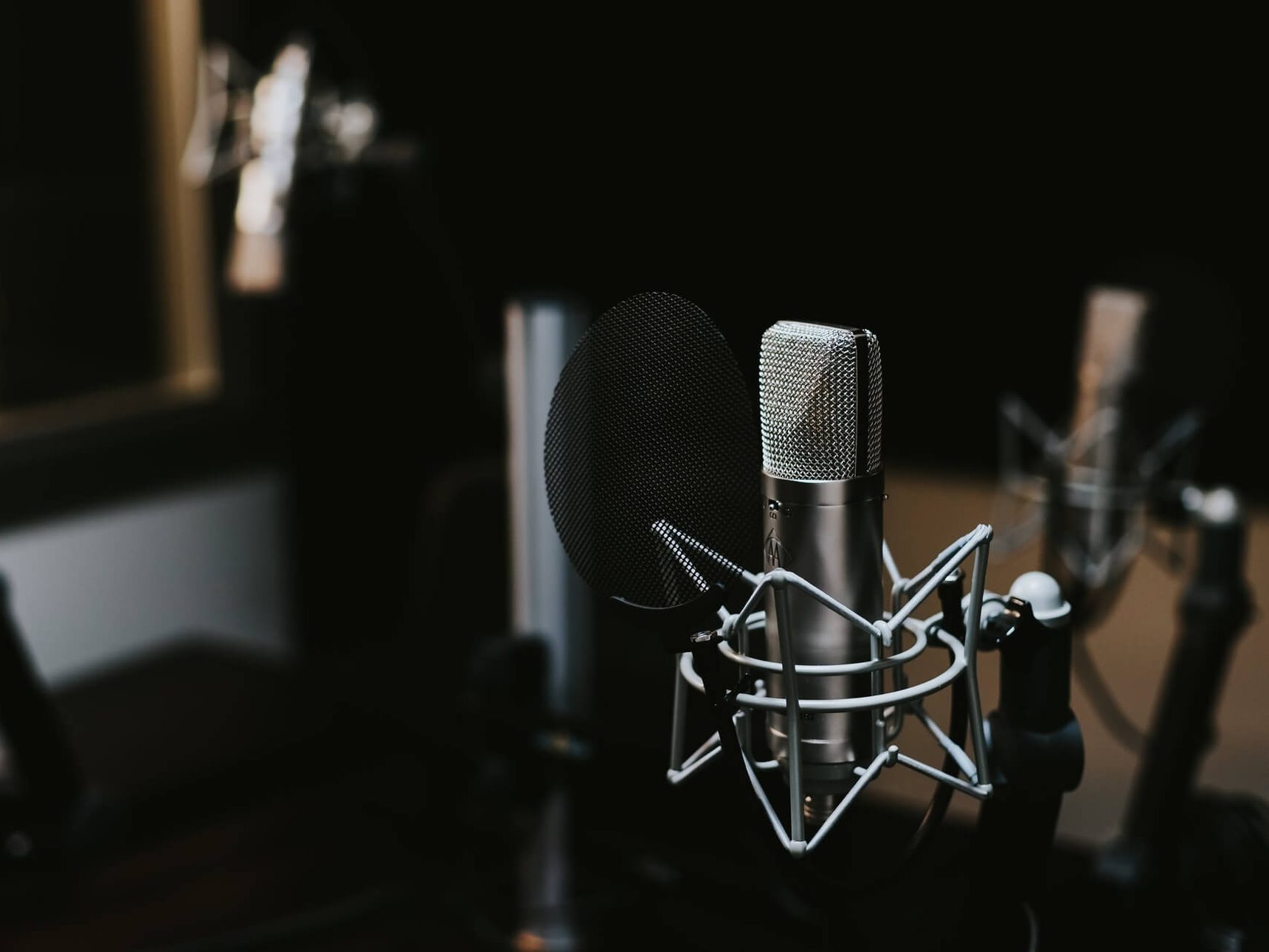 If you are looking for a microphone to record your vocal and musical improvements, first of all you should know that, just as important as your progress is to have the right mic to collect it as accurately as possible. Your first decision should be to choose between a dynamic or a condenser microphone, depending on your needs. But do you know the main differences between these?
Basically, dynamic microphones are those used on big venues and loud places, and for live performances. They are tough and more resistant, so if you are ready to perform for a big crowd, this is the type of microphone you'll need.
But on the other hand, you should choose a condenser microphone if you want to capture and record delicate sounds in a quiet place, like a recording studio. For this type of environments, the best option is always a microphone that is sensitive to high-frequencies, so it can offer you a better accuracy of these subtle sounds.
We have searched for some of the best condenser microphones in the market and here is our list of favorite ones. And, spoiler alert: you won't spend a fortune on any of them.
A condenser microphone of great quality for a reasonable price is this one by TZ. Perfect for any recording studio, this microphone produces a warm and clear tone, which makes that you don't need to apply any filters after production.
Some of the elements that make this microphone a quality option are the gold traces used on its circuit boards, which achieve a better performance thanks to their higher conductivity.
This microphone also comes with an aluminum case, an adapter, a spring shockmount, foam wind cover, and even a leather pouch.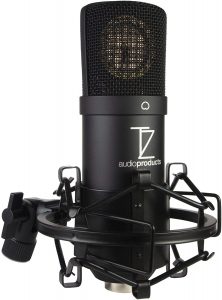 Now we have a whole microphone kit that you can easily use with your computer, without needing any additional hardware, as it features a plug-and-play connection. You will be surprised of the sensitivity and the warm sound achieved, turning into a flattering mic to any voice.
This condenser microphone comes with everything you need: a metal scissor arm, a pop filter with a double layer, a 8.2′ cable, and an extra tripod stand. Besides, you will get 1-year warranty that can be extended to 2-year with an online registration.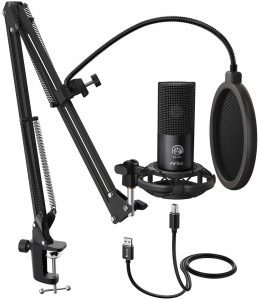 The AT2020PK is a condenser microphone with a high SPL handling and a wide dynamic range, ideal for vocal pickup. Plus, the unidirectional cardioid polar pattern will silence those sounds produced from the sides and rear. You will get a warm reproduction and clear sound, no matter what.
Available as a pack, with a pair of headphones that enhace low-frequency performances, offering a perfect sound isolation even in loud environments, and an adjustable arm with a full 360° rotation. You can even choose between black or a beautiful silver color special edition.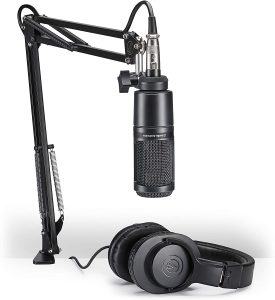 Another cardioid microphone that rejects back and side sounds, suitable for almost all scenarios: voice recording, podcasting, gaming…
The ST-800 offers a wide frequency response that translates into an excellent sound reproduction quality for those who need a high-resolution audio: even better than a CD-quality.
This set includes also an adjustable microphone stand and shock mount, as well as a table clamp, and a pop filter and anti-wind foam cap for a crystal clear sound. The company also offers a full refund within 30 days since the day of purchase in case you are not convinced.

The AU-A04H is a mic that helps reducing the surrounding noise to zero. You can use it on the studio recording, but also for livestreaming or even gaming. They come with their own studio headphones that included an advanced active noise reduction technology.
Other accessories included in the kit are the adjustable scissor arm stand and metal shock mount, as well as the pop filter and foam windscreen that will give you a crystal clear tone and voice.
The 12-month warranty provided will definitely help you choosing this option among many others.

Here we have another condenser microphone with USB connectivity, so you can easily plug it into your computer or laptop.
The NT- USB is an extra-sensitive microphone with a gain setting: when set as high, it can pick even the most subtle room noises, while if you set it low, the microphone is barely audible.
Besides the USB cable, it includes a premium pop shield that works as a filter, a small tripod desk stand, a ring mount, and a pouch to store the microphone in perfect conditions.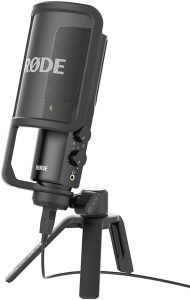 Ikedon and its high sampling rate condenser microphone offers rich and clear audios, at a very reasonable price. It is one of the cheapest microphone sets you will find with this sound quality.
The set includes the condenser microphone with its own metal shock mount to avoid vibrations. The pop filter with double mesh layering and foam windscreen will help reduce subtle plosives. There is also an adjustable steel arm stand and mounting clamp, as well as the USB cable you need to plug it to your electronic device.