Top 10 Guitar Cases at the Best Price in 2021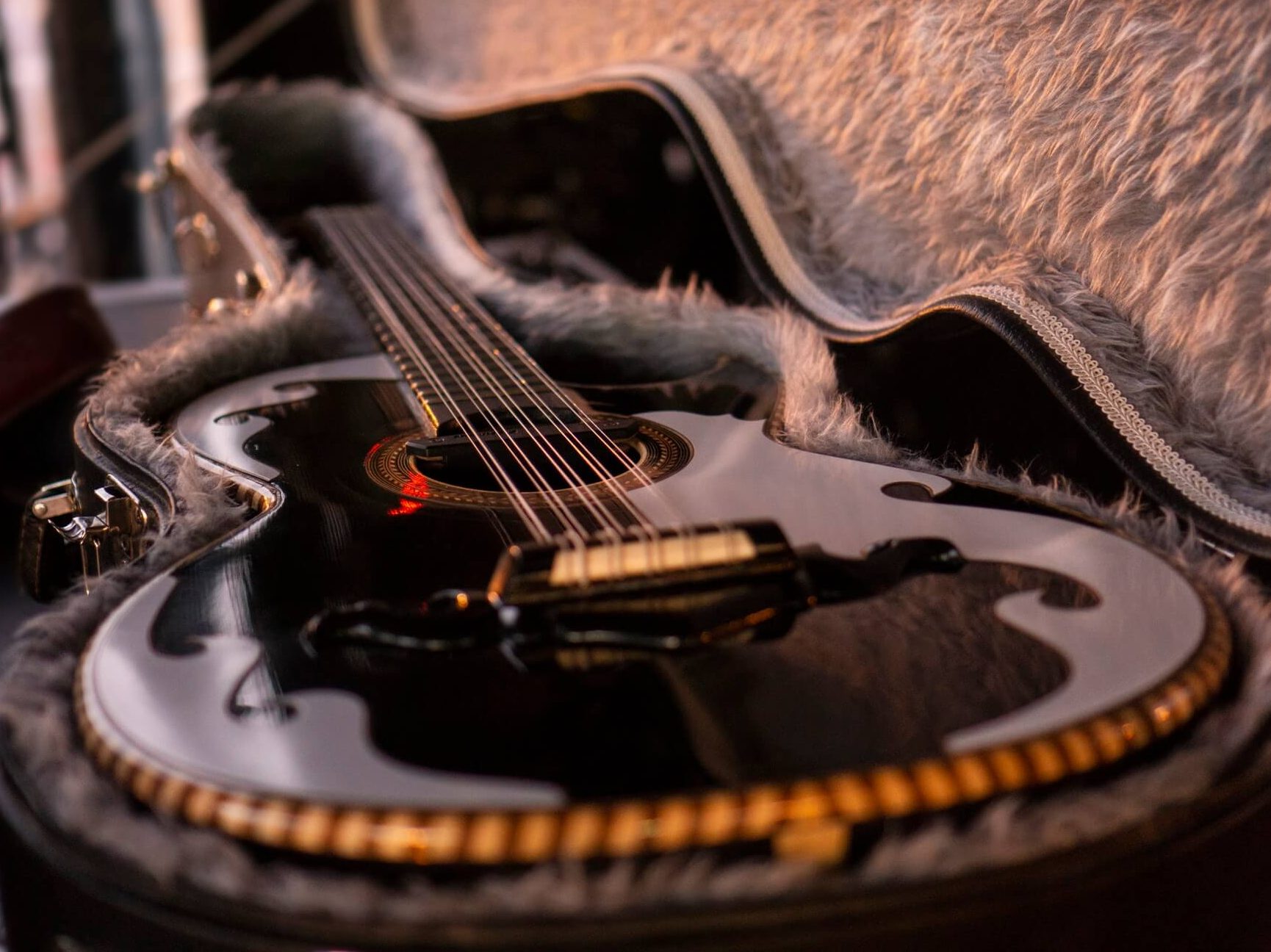 Now that you have invested your money in the guitar of your dreams, you will probably worry about keeping it perfect and shiny like the first day. But you will need to carry it with you sometimes, don't you?
Besides choosing your favorite guitar, it is maybe so important to find a durable (and nice) guitar case that can resist bumps, humidity, and scratches. With materials like leather, fiberglass or PVC, there are so many options we can choose among that sometimes this can be a difficult decision to make.
Brands like Gator and Crossrock have many options to consider for every guitar style. But there are also other companies that have design really nice guitar cases, no matter if you have an acoustic, electric, or classical one, as you will see in our selection.
Find here in our list the best cases that will keep your guitar like brand new for years and years.
Glarry Folk Guitar Crocodile Leather Hard Case
We start our selection with a high quality wood and leather hard case of 41 inches, perfect for your folk or acoustic guitar.
If you are looking for a resistant guitar case you can take anywhere, this one will last forever, thanks to its chrome plated hardware: its lockable latches and bumpers will give you the confidence you need, knowing your guitar will be perfectly protected.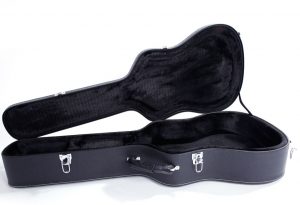 Yamaha Dreadnought Acoustic Guitar Case
This hardcase is suitable not only for the main Yamaha's acoustic guitars, but also for other standard dreadnought sized models.
The latches and hardware have a beautiful golden color, contrasting with the black vynil hardshell case that will resist almost everything. On the inside, a thick plush lining will protect your guitar from scratches, fixing it in its place.
You will also find a little covered compartment on the neck section for those extra accessories.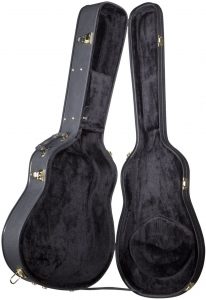 ProRockGear Acoustic Guitar Case
The ProRockGear is an extra-comfortable guitar case, very lightweight but resistant against external damages. The plush lined interior will also keep your guitar safe from scratches.
It comes with large pockets outside that are expandable to fit all the gadgets you may need. Your tuner, extra picks, or even your smartphone and keys will be at hand when you need them.
Some of the features we like about this case are the detachable padded straps, as well as the reflective tags that make it visible at night.

Cahaya Hardshell Case
If you prefer a more vintage look, this brown Cahaya hardcase has it.
Three layers give your guitar a perfect protection: a PU leather surface that makes it look like a gig bag, while being very easy to clean, a thick, shock-proof foam shell, and a scratch resistant flannel layer. Besides, it features zinc zippers, plus breathable padded shoulder straps and a thick handle for easy transportation.
Not only contains an interior compartment for small items, but also a large exterior pocket with organizers to keep all your belongings visible and at hand. You can even carry your sheet music books as you will have plenty of space!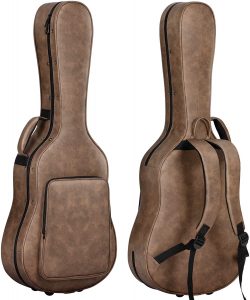 Gator ABS Case with LED Lighting
What we love about this case is that it won't only be perfectly suitable to carry your guitar, but it will make it shine and impress everybody thanks to the LED lightning on the inside. This LED will be automatically turned on just by opening the case.
The exterior, made with durable ABS material, and the heavy-duty aluminum valances on corners will make this case resistant to impacts and bumps.
Finally, the luxury plush lining will upgrade the look of the whole set, while protecting your instrument from scratches. The guitar will be perfectly fixed thanks to the neck support, and at both sides you will have two open compartments for your accessories.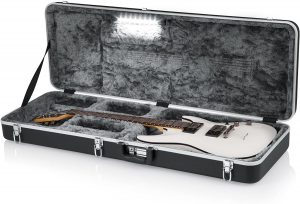 Fender Stratocaster/Telecaster Tweed Case
We have a classic tweed design here for an electric guitar. A perfect hardcase for your Fender, specially if you need it to carry your electric guitar on a flight since it will resist bumps and has locks with a keyhole mechanism.
The inside of the case is thickly padded to treat your electric guitar with care. Plus, it has two compartments for other accessories, which you can have access to without removing the guitar.  The brown leather and the brass hardware are the icing on the cake for the luxury case that any professional and advanced guitar player needs.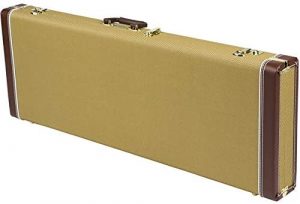 Gator Polyfoam Electric Guitar Case
The Transit Series by Gator introduces hybrid guitar cases that combine the resistance of hard cases and the portability of gig bags.
This example designed for electric guitars is made with a waterproof blended fabric on the outside and an EPS foam inside, where you will find plenty of space for other accessories as well. Your guitar will be perfectly protected against external damages and firmly kept in its place inside.
Besides a molded handle for transportation, this case has padded backpack straps that you can easily hide. Plus, there is an extra zippered pocket outside for other things you may need to carry with your guitar.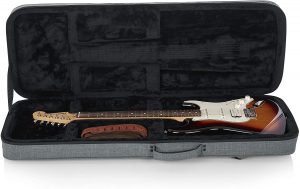 Crossrock Deluxe Wood Hard Case
The PVC exterior material and metal bumpers make this hardcase extra-resistant without adding much weight, so you can easily carry your classical guitar anywhere using its padded carrying handle. Three metal latches will keep the case locked and the guitar always in its place.
The dense and beautiful vintage blue plush padding on the inside gives the extra protection for your guitar, avoiding damages and scratches, while keeping it shiny and clean.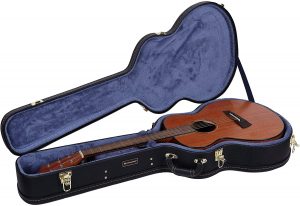 Gator Hard-Shell Wood Case
For the same price we have a wooden case for your classical guitar, designed by Gator.
With a Tolex covering and locking latches, the plywood construction of this case is durable against external damages. The soft padded plush interior will embrace your guitar gently, keeping it in its place no matter what. And you will have some space for your extras: strings, picks, tuners and everything you need will be perfectly stored in their own compartment, avoiding spilling.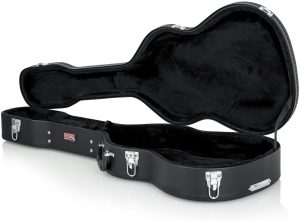 Crossrock Fiberglass Classical Guitar Case
Available in many beautiful colors, from black to yellow, here we have an extra lightweight case, made with fiberglass material. Besides, it is totally waterproof, as it features a thick rubber strip seal. It also comes with its own backpack straps that you can detach if you just want to use the leather handle.
The inside is padded with pleasing velvet lining. It also contains an integrated hygrometer to keep your guitar protected from humidity as well.